Apert's & the Enigma of Chromosome No.10


(These Links Will Open In New Browser Windows)
Craniofacial Surgery: Tennessee Craniofacial Center Erlanger Health System
Erlanger on Apert:
A PDF File
Nat'l Org. for Rare Disorders: Apert's & Related Conditions
Craniofacial Work at Columbia:
CPMCnet
Apert Syndrome: Faces-Cranio Disorders
Clinical Variability in Patients:
Neurosurgery.Org
A CONGENITAL DEFECT FOR ONE IN 200,000 ... BECOME SOLDIERS WHO ARE ONE IN A MILLION
AUGUST 2003
BY JOHN MICKELSON
Our family knew that this year would come eventually — the first in a series of surgeries to help Andrew's midface keep up with the rest of his head.
With Apert Syndrome, the midface bone structure — from his eyebrows to his upper bite — doesn't grow much and falls behind the growth of the rest of his face.
Tradition with Apert kids is to get the first of these surgeries done before they enroll in kindergarten. The summer of 2003 represented the summer prior to Andrew's last year of Early Childhood, his developmental education before kindergarten. Install the hardware in June, have it removed in August, nine weeks later.
Our greatest trepidation about this surgery — apart from the vulnerability a 4-year-old has to spending a summer with hardware holding loosened bones in his skull — was that the surgery sets the stage for Andrew's parents (Sherri and me) to do the actual adjustment! Nearly a half-inch of adjustment was required, and you can't stretch skin, muscle, tissue and the like all at once to achieve the desired result. So, once Andrew's key bones (eye sockets laterally to ears and down to his upper bite) were surgically broken and reset with titanium plates and distractors (see above-left photo for a look at the distractors), I was given a tool to adjust Andrew's midface, one turn at four distractors, twice a day for two weeks.
It usually requires at least one person holding Andrew down just to give him ear drops or eye drops; what would it take for him to surrender to having his midface torqued?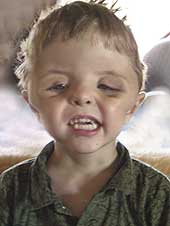 As it turned out, the answer was prayer. A legion of friends were praying for us and, amazingly, Andrew would dutifully sit on Mommy's lap in the morning and again, just before bedtime, to let Daddy torque the adjusters on his head. He was understandably reluctant, weeping and afraid, but he cooperated!
The supernatural event of the summer!
Historically, the procedure will need to be repeated when he's ten or 11 and again when he's 17. However, Andrew's surgeon, Dr. Delora Mount, said that sometimes the first surgery stimulates the midface bone, giving us reason to hope that perhaps one or both of these future procedures could be avoided. Only time will tell.

APERT SYNDROME STORIES/SUPPORT
Teeter's Page. Major site for Apert links and family-managed Apert ListServ.
Apert Chat. Supplement to the Apert ListServ. An Excite community.
Apert Support Group at Harvard.
Andrea's Page. Personal account from Andrea Gartner, a college student with Apert Syndrome.
Amy's Page. Personal account from Amy Esler, a girl with Apert Syndrome.
Apert ListServ. An archive of ListServ postings on Apert Syndrome.
ApertInfo: Story of Matthew Romero, in conjunction with Children's Hospital of Boston.
Thrive Online: A med library article on Apert Syndrome.
OTHER RESOURCES (These Links Will Open In New Browser Windows)
Swedish Apert Syndrome Informat
Medical College of Wisconsin: Apert Overview
CCAKids PDF on Apert Syndrome
FamilyVillage on Apert's
Craniofacial Anomalies:Tooth Formation and Eruption in Patients
WideSmiles: Apert Cleft Links