A FAMILY COMES TO GRIPS... A DAUGHTER LEARNS THE ROLE OF BIG SISTER... AS WE JOIN ANDREW IN HIS JOURNEY
Until March 19, 1999, our beautiful daughter Christina was an only child. She had never had a sibling to play with, contend with, help out. And Sherri and I had grown accustomed to doting on her as our one special blessing.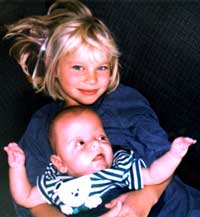 Now ... we would need her to help us help Andrew.
In some ways, the best thing to happen to Christina's develpment (as well as our own) was Andrew.
(Something only God, in his foreknowledge and wisdom, could have anticipated. Andrew's challenge may not be making life easier, but God is using him to bring out the best in each of us.)
Christina could, and would, apply her entertainment skills — and general silliness (which she claims was inherited from her Papa) to be the first, and primary, family person that can almost always make Andrew laugh.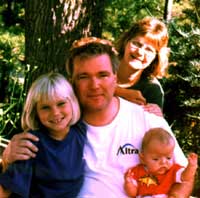 ...And given that Andrew's first few months elicited few natural smiles (I told folks, in a geek's standard demeanor, that Andrew's "default setting" was cranky.)
Christina has helped change that. And she has even helped show Mama and Papa the techniques of how to make Andrew smile...and laugh...and enjoy the life into which he was born.